For me, it was important to publicly display my commitment to the Promise Land both as a testimony to others and as a reminder to myself.
There are endless ways to for a person to express their affection for Israel both publicly and privately. Some people like to have an outward expression either as a discussion piece or simply as a way of meeting like-minded people. For others, having a constant reminder of Israel helps serve the commandment of never forgetting Jerusalem – on a personal level. I suggest choosing something that has particular meaning to you, none-the-less it is always helpful to have some suggestions.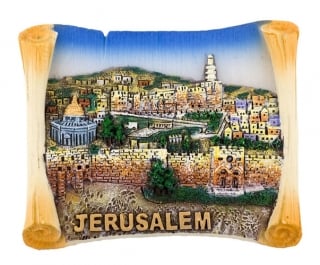 IDF Memorabilia: Wearing IDF memorabilia is a great way to show your solidarity with Israel, on a national level. One of the most common types of IDF memorabilia are olive green t-shirts with the emblem of the IDF printed in dark yellow in the center of the t-shirt. They can be found at almost any gift shop in Israel – especially in the old city of Jerusalem. Many tourists also buy dog tags. A dog tag is a nice way to constantly show demonstrate your affection for Israel as well as remember a personal trip to Israel by engraving the dog- tag with your trip date and purpose, and those with whom you travelled.
Key-Chains: Because Israel is a Jewish state, many people associate anything Jewish with Israel. Therefore you do not need to display the IDF symbol or the Israeli flag in order to express your affection for Israel. Anything with the Star of David or another Jewish symbol can send of that message both on a public note and certainly on a personal level. Personally, I have always loved key chains. Key chains are small and inexpensive, making excellent souvenirs and gifts from a visit to Israel.
They are also quite ubiquitous at gift shops, making them a great collector's item. First of all, they can be hung almost anywhere. A key chain can be used for the most obvious purpose –to hold your keys. It's nice to be able to think of Israel every time you walk into your home – especially if you are a Jew living in the Diaspora hoping to one make Israel your home! As a child I loved to hang key chains from the zippers on my backpack. My friend's would constantly check to find a new addition to the collection. I especially loved the little yellow smiley face, donning a kippah and tzizit, given out as a party favor at my friend's Israel-themed Bat Mitzvah. Lastly, a key chain can be hung on a nail as a decorative item in your home or from the mirror in your car.
Necklaces with Sand from the Holy Land: When I was in university I took a Hebrew class. One of the guys in my class was a Christian Israeli from the Christian quarter of the Jerusalem's Old City. He expressed his passion for Israel very clearly. One day I noticed that he had a little glass tube around his neck with some sand in it – and I started noticing that he wore it every day. It looked like it was home made. After a few weeks I finally asked him what it was. He was elated that I had noticed and was eager to share. He began explaining that leaving Israel for university was a very difficult decision for him and his family.
Before he left his home for the last time he went to the playground that he had played in growing up and took a small amount of sand. He wore it around his neck as a reminder of who he was and where he came from. He told me that he had tied it in such a way that he couldn't take it off without cutting it. His plan was to take it off only after he was back in Israel. The truth is that after I heard his story I noticed that there are many online sites that actually sell "Holy Land dirt." This is another great way to express your affection for Israel.
In short there are endless ways to express your affection to Israel. Get creative!
Comments
comments