It is fascinating to think that despite living in a technologically-advanced world,candles are still such a big part of our lives.Lets find out why its still so
Lighting candles in the memory of loved ones is a tradition that can be traced back centuries. There is something powerfully strong about the flickering candle representing the soul of one who has passed on that leads to memorial candles being lit even today in the twenty-first century across the globe. Additionally, there is the idea that just as when a candle burns the flame never changes size whereas the candle itself gets burned up, so too people believe that when a person passes on their physical body has finished its role but their spiritual being is forever. Many times memorial candles play a role in different religions but not every memorial candle is lit by religious people…
Remembrance Candles
Catholic Christians have a tradition to light sacramental memorial candles in the chapel for remembrance. Additionally, it is traditional to light candles on All Saints Day (which falls on November 1st) that last an entire year. The candles are often maintained by family members. Additionally, Catholic burial sites will often feature candles in memory of those who have passed away. Such candles are designed to burn for an entire week.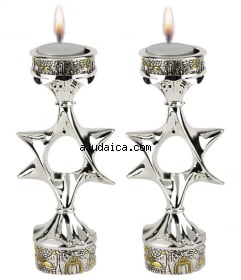 Yahrzeit Candles
Yahrzeit Candles are special memorial candles lit by Jewish people. Such a candle is designed to last for a full twenty-four hours and is lit on the anniversary of the death of a loved one. The candles are also lit on four different festivals on which the Yizkor blessing is recited which is a memorial prayer for the deceased of the community. Additionally, Yahrzeit Candles are lit all over the State of Israel both on the Holocaust Memorial Day and the Memorial Day for Fallen Soldiers and Victims of Terror Activities. It is also common to light a memorial candle when visiting graves of righteous sages in Israel to symbolize their souls.
Vigil Candles
Memorial vigils are often held in the modern secular world in honor of fallen soldiers, those who have died of diseases, victims of manmade or natural tragedies.
Pagan Ritual Candles
In the Pagan tradition, candles are lit for the dead as a way of remembering them and symbolizing their rebirth and transition. Some Pagan families also have the tradition to keep an altar with candles to remember their loved ones and ancestors.
Wedding Memorial Candles
There is a custom among people of different religious affiliations to light a candle during a wedding ceremony in memory of a loved one.
Virtual Candles
And of course, in today's world, one cannot help but mention virtual memorial candles that are offered by many websites whether for free or for a charitable donation which one can "light" in memory of a loved one.
For those of you who wish to shop for memorial candles, please see our collection at:
http://www.ajudaica.com/category/159/Yahrzeit_Candles/
Comments
comments