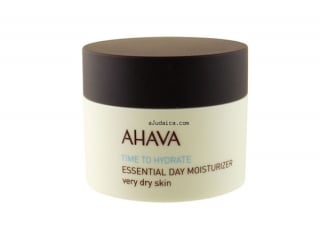 Sometimes the sheer vastness offered by companies such as Ahava can be overwhelming for a first-time customer so we'd like to offer few tips. Ahava is a company that produces and sells Cosmetics and Skin Care Products based on Dead Sea Minerals that are known for their magnificent healing properties.
Face Products
Cleansing
Ahava offers a wide range of cleansing products for the face including rich cleansing creams, toning cleansers, exfoliators, mud masks, cleansing gels and eye makeup remover.
Hydrating
Ahava's moisturizing products keep the face moisturized throughout the day. They offer moisturizers for all skin types- normal, dry, very dry and combination. They also offer night moisturizers that do their magic as you sleep. Eye creams to soften the delicate areas around the eyes are also on offer as are serums to intensively repair skin and hydration masks for those times when your skin simply needs a hydration boost.
Smoothing
Ahava offer a range of age control products which help to prevent and control the first signs of aging. Instead of waiting for aging to take place, combat it with these fine day and night moisturizers, eye creams and serums.
Revitalizing
Sometimes your face needs some quick-fix action and the revitalizing products of Ahava will provide just that. Extreme night treatment smoothens and firms the skin, the extreme day cream smoothes and firms maturing skin, the extreme firming eye cream reduce wrinkles and a lifting mask provides a boost for the skin as it firms the skin.
Body Products
Water Products
Ahava offers light, quickly-absorbed, mineral products for the body, hands, feet and for use in the shower.
Miracle Mud Products
Ahava's famous mud products are on offer for the body, hands and feet and are rich and greaseless, leaving the skin well-hydrated, repaired and smooth. Ahava also offer deep-cleansing mud for the body in order to experience the mud-pack treatment in the comfort of your home, as well as a purifying mud soap that gently scrubs impurities from oily skin.
Relaxing Salts
The salts of the Dead Sea are rich in minerals and vitamins and are therefore highly beneficial to the skin. Choose from butter salt scrub that leaves the skin smooth and nourished, salt soap which is soapless and cleanses and conditions the skin gently, liquid salt which is simply a pleasure to use and the popular mineral bath salts which soften the skin and relax the muscles and joints for a true spa experience.
Plant Products
Ahava offers anti-bacterial, cleansing creams with a variety of different plant combinations that are velvety, luxurious and calm the skin. Body lotions that naturally hydrate and are pleasantly calming as well as a plant-based body cream are also available.
Besides the aforementioned products, there are also a wide range of makeup products based on skin-healthy minerals and products for men.

Enter Ajudaica.com Shop and choose from our variety of Ahava (Dead Sea) cosmetics
Comments
comments