Iris Design is a studio that designs Jewelry and Judaica that was founded by Iris Braunstein-Shemesh. Iris lives in a quiet, rural area, south of the busy, non-stop Tel Aviv. This juxtaposition is by no means non-influential; in fact, Iris' pieces seem to combine the extreme opposites often experienced in her native Israel. Iris gathers together aspects of the different lifestyles and cultures that she experiences in her tiny country and translates them in to delightful pieces of Jewelry and Judaica items.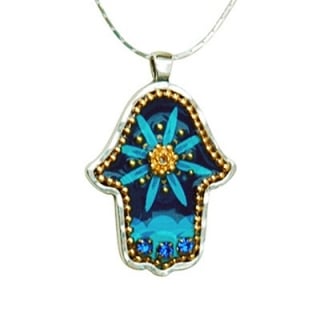 Iris actually started her professional life as a textile designer and eventually made the gradual move to the world of contemporary jewelry and Judaica in 2004. And we are all so much better off that she did. Her pieces reflect her experiences and her continuous, on-going search for inspiration. There is something truly refreshing and unique about Iris' pieces, with the daring combination of textures, designs and colors. Each piece is meticulously hand-made ensuring that no two products are alike. Among the pieces that Iris creates are bracelets, belts, necklaces, earrings, rings, Judaica items and textile designs. Iris has enjoyed astounding success in America, featuring in highly respected magazines, among them the New York Times Magazine and Vogue.
Iris' bracelets are funky, colorful and vibrant. They are made from resin resulting in a refreshingly light end piece and finished with enamel by Iris herself.
Iris' belts feature gorgeous buckles that vary from romantic floral designs to daring animal prints. They are sure to add pizzazz to any outfit.
Iris' necklaces vary from solitary, bold pendants to delicately beaded earring-and-necklace-sets.  There is something for everyone in her collection, from the daring to the delicate.
Iris' earrings are stunning and are generally hanging and featuring a unique design. Each set of earrings has its own color-scheme and design yet they are all eye-catching.
Iris' rings are bold and beautiful with a definite vintage feel to them. Animal prints, floral and beads are all featured in her collection.
Iris' Judaica Collection includes Jewish Jewelry, Mezuzahs, Hamsa Wall Hangings, Hanging Pomegranates and more. All of her pieces are exquisitely decorated and add a new twist to age-old traditions. Apart from fulfilling commandments with these items, one call also take great pleasure in the beauty they add to one's home.
Iris has some gorgeous textile designs that are bold, cheerful and exciting.
Check out Iris' works and many fabulous Jewish items at our web-store Ajudaica.com
Comments
comments