Have you ever thought about the Imahot, our Matriarchs – Sarah, Rebecca, Rachel, and Leah – and the roles they played? Most likely, you have. Our founding mothers were shining lights in Bible stories, key figures in the history of the Jewish people, and even though they lived thousands of years ago, they remain important figureheads in our teachings. 
But, have you ever imagined them as if they were around today? If they were the women who lived down the street? The moms, sisters, and daughters whom you bumped into while doing errands, talked to on the phone, and sat next to at work? 
We hadn't, until today.
In honor OF Passover legends: 4 IMAHOT 
In honor of Passover 2020 real legends, this year, we celebrate on April 8, we're taking our matriarchs on a shopping spree at AJudaica. And we're excited because for all they do (did), they deserve the best.
Ready to see which items we have chosen for them?
Let's go. 
Dear Imahot, right this way 🙂
A Shopping Trip Fit for a Matriarch
Sarah
Wife of Abraham and mother of Isaac, Sarah is known for kindness and hospitality, as well as her faith, individuality, clarity of vision, dedication and open-mindedness. If Sarah were here today, she might run a startup or a lovely inn. 
Our gifts to Sarah: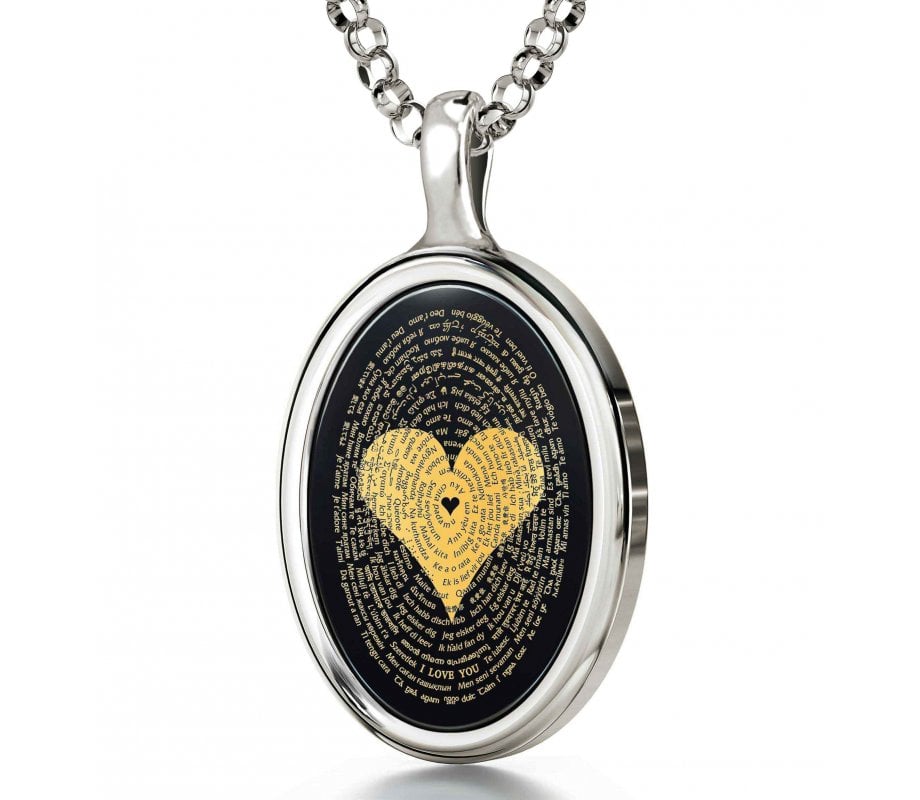 Created by Nano Jewelry, this is a lovely multi-layered expression of love inscripted with "I love you" in 120 languages. Featuring a sterling silver oval frame surrounding a 24K heart in a black onyx background, this pendant comes with an 18-inch chain and a magnifying glass for reading the text.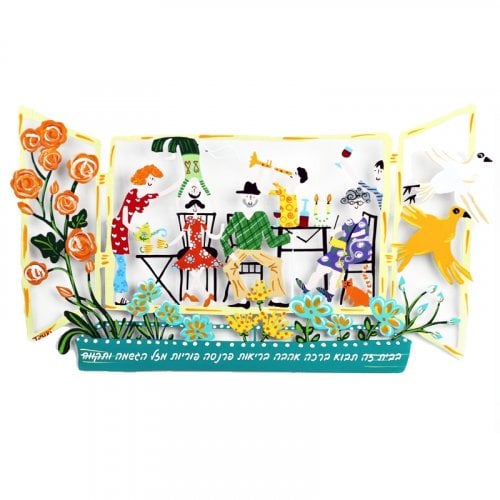 Paying tribute to the Jewish family, this laser-cut steel work of art colorfully depicts a happy family. Playful and joyous, it includes a Hebrew blessing inscribed on its base wishing the home love, health, and hope.
Rivka
Often described as mature, independent, hard-working, kind, energetic, and devoted, Rivka was married to Yitzhak and the mother of Yaakov and Esau. Guided by her values, a Rivka of today might find herself in a courtroom or creating policy as a government official.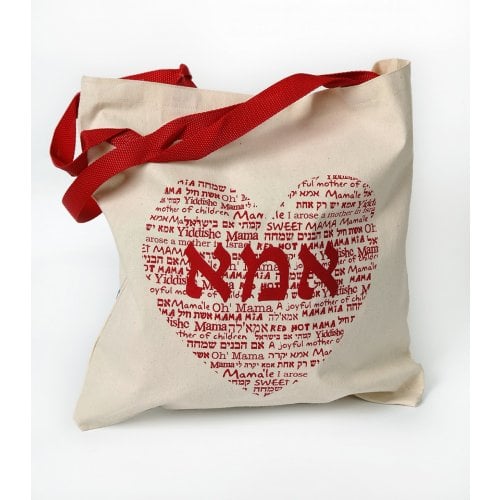 A Barbara Shaw creation, this useful tote shouts out "Ima" in a dozen languages.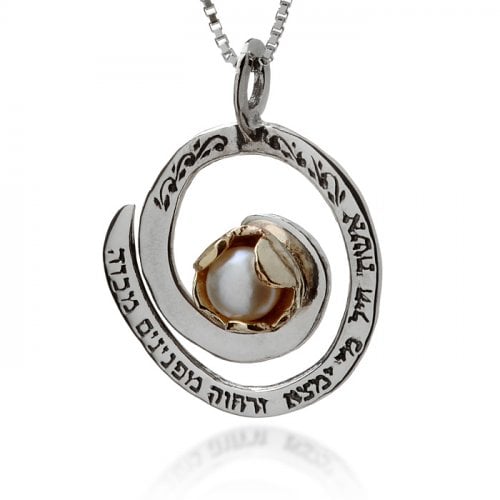 A lovely pendant crafted from sterling silver and 9K gold, this piece by HaAri is set with a pearl and features a Hebrew inscription from the Eshet Chayil prayer: "She opens her mouth with wisdom and a lesson of kindness is on her tongue."
Rachel
Charismatic, powerful, and flexible, Rachel was a doer and a compassionate, realistic leader and great communicator. Married to Yaakov, she was the mother of Yosef and Benjamin and the sister of Leah. In our midst today, Rachel might have chosen medicine, marketing, or social work.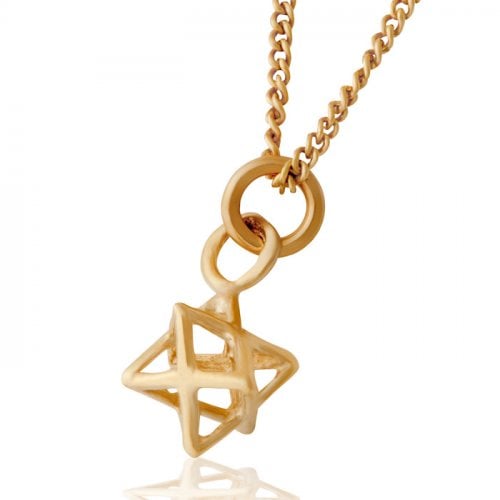 Created by HaAri, this uplifting Kabbalah star charm in gold features a unique 3-dimensional star design, called the Merkava, that is said to release spiritual energies. A sterling silver chain is included.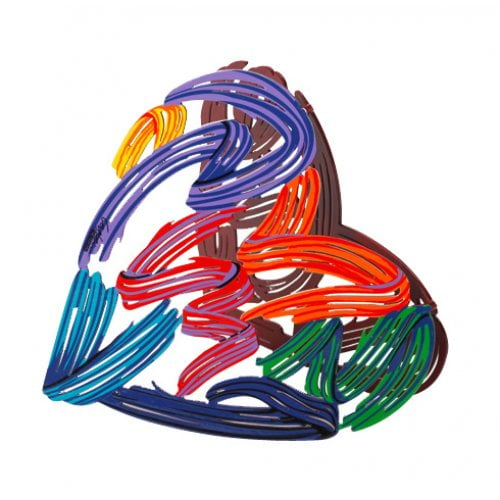 A veritable rainbow, this modern free-standing heart sculpture conveys love and passion with expressive brushstrokes of vibrant colors.
Leah
Introspective, quiet, and sensitive, Leah was hardworking and determined and was known for her religious piety. She symbolized the hidden world and the power of prayer. She and husband Yaakov raised seven children: Reuven, Shimon, Levi, Yehuda, Issachar, Zevulun, and Dina. With her special qualities, if Leah were here today, she might have been a teacher or religious leader.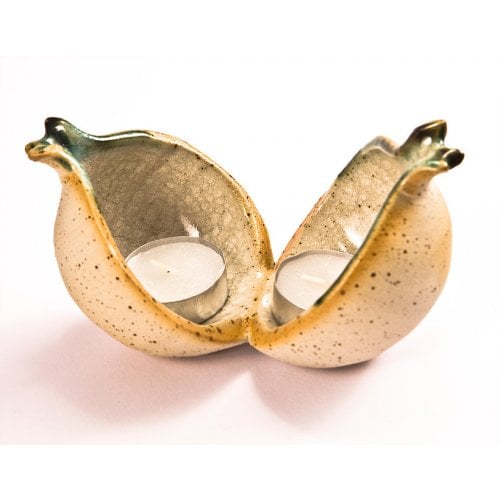 Created by artist Michal ben Yosef, these lovely open ceramic pomegranate candlesticks have that hidden element that would appeal to Leah.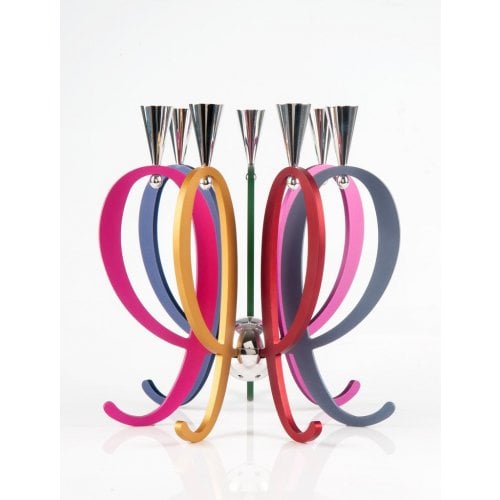 An Avner Agayof creation, this modern anodized aluminum candelabra expands to let you add additional lights in your choice of color. Ideal for the mother whose custom is to light a Shabbat candle for each child. 
Honoring Your Favorite Women with the right passover gift:
Are there admirable women in your life with qualities similar to our Imahot? Let them know how you feel with a lovely pendant, piece of artwork, or set of candlesticks in honor of upcoming Passover Seder or anyday. Honor your favorite women with a special gift from Ajudaica today.
Comments
comments