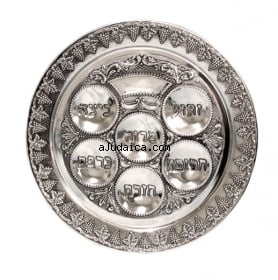 Invited out for Passover and don't know what to bring? Well, stop worrying and have a look at our list of ideas of special gifts that you can buy your hosts for Passover…
This gift does very much depend on the family you are going to but in some families there is a custom to collect Haggadahs. Families that are especially used to hosting a ton of people on Passover will often have an impressive collection of Haggadahs so that each guest can take their pick and find one that speaks to them. Check with your hosts if they have a Haggadah collection and if they do, whether they would like you to add to it…
Again, this very much depends on where you're invited to. If you are invited to an older couple then chances are that they have their Seder Plate that they've been using for years and are quite happy with and attached to. However, if you're going to a young, newly-married couple who quite possibly won't have one and you feel like really splashing out on a gift, inquire as to whether they have one and if they don't then there are a huge variety of Seder Plates out there that can be just perfect to bring as a very special gift.
A gorgeous Matzah Plate/Tray will more often than not be much appreciated. Once again, it is always worthwhile making sure you know whether your hosts would need or want one and if they have a perfect one that they love then perhaps consider getting a regular serving plate and that will be just as well-appreciated.
Whilst we're on the subject of Matzah-related items, a Matzah cover is also a lovely gift but quite like Challah covers there is such a thing as one couple getting inundated with them- especially if their wedding is near to Pesach. A young couple is much more likely to not have one but as always make sure to check before…
Passover Music, Stationary, etc
If you are being hosted by a family with children it is always a nice idea to get a little gift for the children. It does not have to be anything expensive but a Passover-themed gift such as Passover CDs or Passover stationary will be well-appreciated by the kids and the parents who get a few minutes quiet while the kids enjoy their gifts!
Passover Towels
No, we're not speaking about towels to be used in the bathroom- even the strictest Pesach cleaner doesn't go as far as to have separate bathing towels for Pesach! We are speaking about hand-towels that can be used at the Seder or anytime during Pesach after washing hands for Matzah.
Passover Gift Basket
A gift basket can quite often be a very welcome gift for a family- especially on the sometimes restrained diet that Passover brings along with it for some streams of Judaism. Do check what the family's customs are regarding foods on Pesach and if they go by any specific certification. A basket with chocolate, nuts, wine, etc, all Kosher for Pesach makes a lovely gift.
Comments
comments