Expressing sensitivity to a person's religious beliefs is important when purchasing gifts, since many people hold their religious beliefs very dear to their heart. Taking the time to keep a person's beliefs in mind will certainly be appreciated by the recipient.
Jewelry Ideas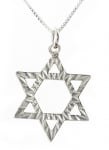 Jewish jewelry is often an appropriate gift to give, particularly in the case of a young girl's Baht Mitzvah or at a birthday party for a woman. One popular item is a Star of David pendant. This pendant can be worn on a necklace or bracelet to proudly display Jewish pride. Another option is to select a piece of jewelry made from a popular Israeli or Jewish designer.
Religious Themed Gifts
When purchasing a religious themed gift, always take care to pay attention to the person's level of observance. For example, angels are generally not an appropriate gift for a Jewish person, although a member of the Reform movement might find an angel-themed gift acceptable. When a couple moves into a new home, a mezuzah made out of ceramic, stone or another material is an intriguing present. People might want to purchase religious gifts for a Jewish child. A number of toy stores sell Noah's Ark sets, so a person could give this set along with the accompanying story from the Old Testament.
Monetary Gifts
Sometimes finding perfect Judaica gifts is difficult. In the Jewish faith, the number 18 is thought to represent chai, which generally means life in the religion. Therefore, people who want to give money as a gift should be try to base their gift off of this number, meaning that they should give the person a multiple of 18. Monetary gifts in multiples of 18 are most often appropriate at big celebrations such as a wedding, Bat Mitzvah or a Bar Mitzvah.
Other Gift Ideas
There are so many possible gift ideas for Jewish people. Printing out a favorite Old Testament verse of the recipient and having it framed is one such idea. Consider a family of practicing Jewish individuals in which one member of the family has become an atheist. The atheist could consider heading to temple with his or her parents on their anniversary or on one of their birthdays. The atheist could even decide to try to regain some of his or her faith a little bit. For some Jewish families, this might be the best gift that an individual could give.
Remember, just because the recipient of the gift is a Jewish person does not mean the gift must be Jewish themed. Secular gifts can work well too. Christians like gifts that are secular, and Muslims like gifts that are secular, so Jewish people certainly do too. The most important part of selecting any gift is knowing what the recipient likes and dislikes.
Comments
comments